Vi människor vill tänka snabbt, och det betyder att vi ofta tänker fel. Det kan bl.a yttra sig i så kallade kognitiva bias (fördomar) och en jätteinfograf listar nästan 200 sådana. Uppmuntrande läsning!
Jag har tidigare skrivit om så kallade kognitiva bias, alltså olika varianter av fördomar som finns i våra hjärnor och ställer till det när vi ska fatta beslut. Men den gången tog jag bara upp 20 stycken – det finns betydligt fler. Och Design Hack har samlat dem alla i en enormt detaljerad infograf – som du till och med kan köpa som tryck och sätta upp hemma.
Nyhetsbrev
Vill du ha alla poster från staunstrup.se i ett enda nyhetsbrev varje vecka? Fyll i din e-postadress så kommer det raka vägen till inkorgen.
Du kan titta närmare på den här. Här har du en mindre del av den: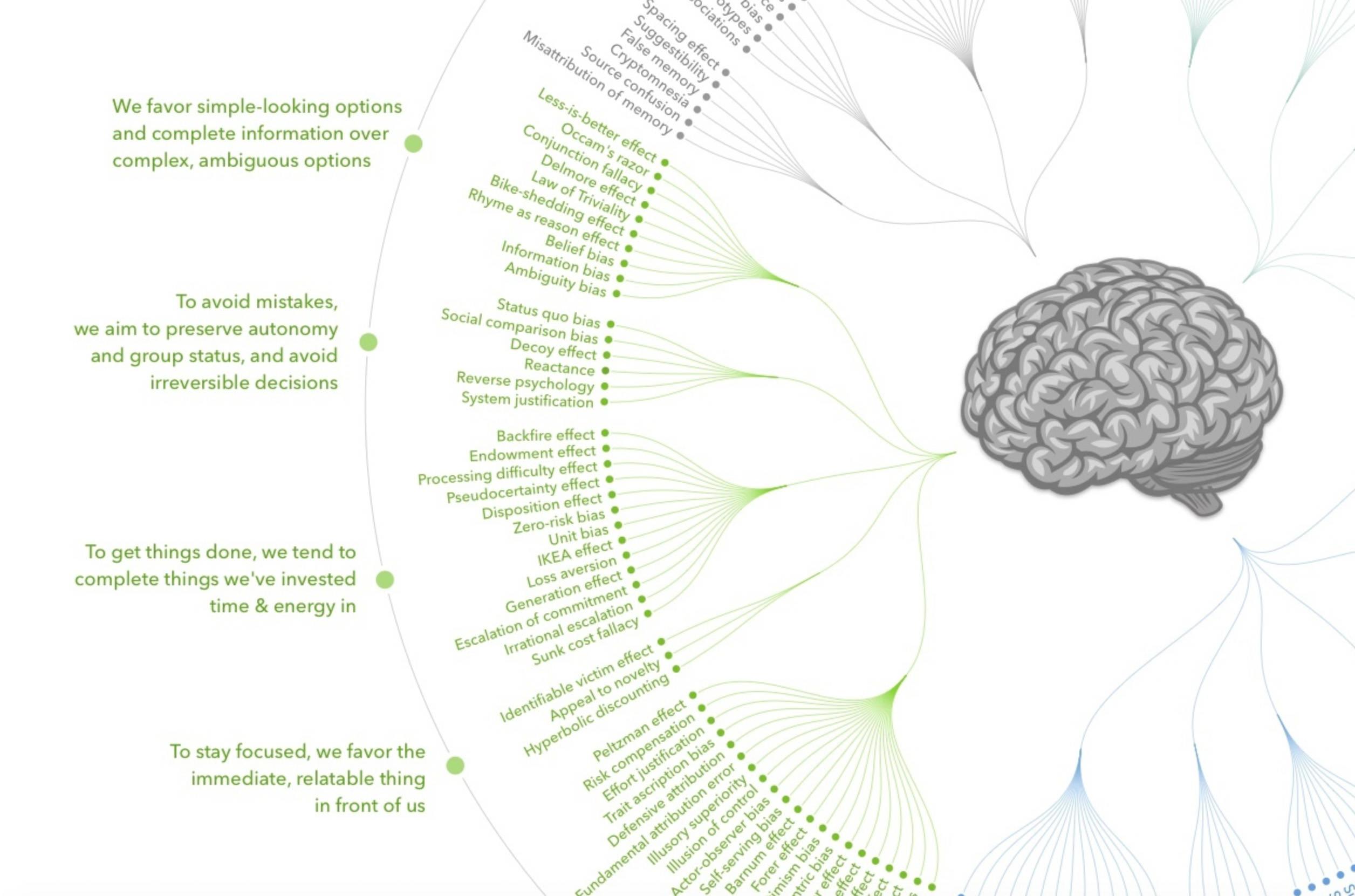 Som du ser finns det ingen hejd på vår förmåga att lura oss själva på olika sätt. Men det intressanta är förstås varför vi gör det – vad bottnar dessa fördomar och förutfattade meningar i? Jag hittade en kort introduktion i en mycket längre text som jag tycker ger en bra beskrivning:
"Cognitive biases are caused by the imperfect way in which we process information and make decisions, and primarily as a result of our tendency to use mental shortcuts that allow us to think faster but also make us more likely to make mistakes."
Med andra ord, när vi hanterar information och fattar beslut så vill vi att det ska gå fort, så därför tar vi en genväg och då blir det fel. Ett exempel på detta är den s.k kallade Halo-effekten (Gloria-effekten): Vi överför vår åsikt om en person inom ett område till ett helt annat område – vilket får som resultat att någon vi tycker är snygg kommer vi även att uppfatta som att den har en bra personlighet eller stora kunskaper.
Och det där var alltså bara ett exempel – det finns 187 till i infografen!
Vill du att ditt företag ska bli bättre på att arbeta med digital marknadsföring, content marketing, account based marketing eller sociala medier? Jag jobbar på Brandmovers, en content marketing-byrå som kan hjälpa er med allt från strategi till genomförande och uppföljning. Kontakta mig så berättar jag mer.