Om du vill göra några djupdykningar i det digitala läget världen över, och få veta hur e-handel, teknik och marknadsföring utvecklas har det kommit tre mycket bra rapporter/presentationer senaste veckorna.
Det har varit nästan lilla julafton den senaste tiden för alla som gillar matiga rapporter och genomgångar av digital utveckling. Och detta utan att Mary Meeker har presenterat sin årliga stora spaning. Istället är det We Are Social i Singapore och Scott Galloway, marknadsföringsprofessor på NYU Stern, som står för dem. Det är rejäla saker vi talar, i mängden information, men de är alla tre väl värda att titta närmare på:
1. We Are Social – Digital in 2016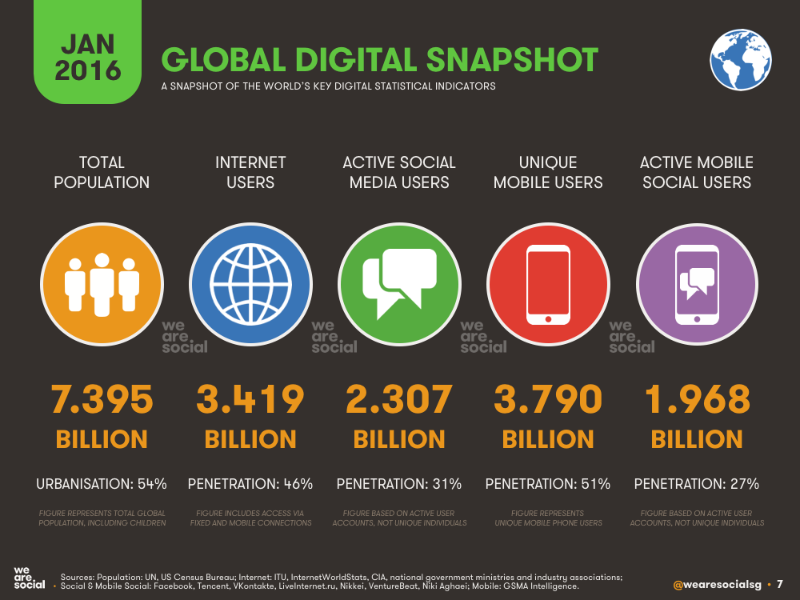 We Are Social Singapore gör regelbundet större översikter över den globala utvecklingen inom digitalt, mobilt och sociala medier. I årets stora rapport tittar de dels på utvecklingen per världsdel, dels i 30 länder. Ingen av de nordiska länderna finns med i år, däremot Frankrike, Tyskland och Storbritannien om du mest är intresserad av europeiska siffror.
Simon Kemp, huvudansvarig för rapporten, har skrivit en post på LinkedIn som är en bra introduktion till den.
2. We Are Social – Digital yearbook 2016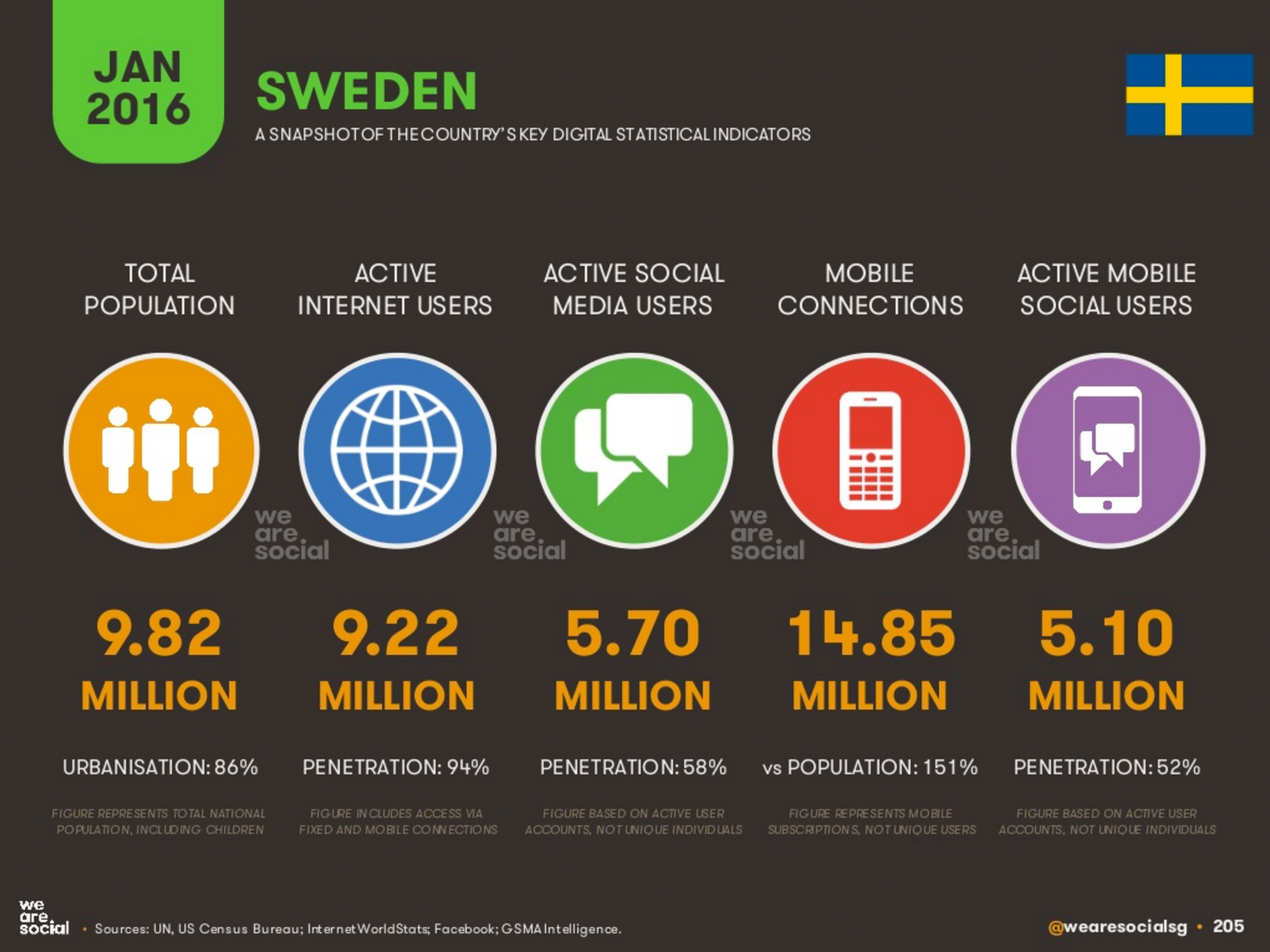 Om du vill ha mer information från olika länder finns det även en digital yearbook, som ger dig data från 232 länder. Här hittar du översikter över t.ex alla de nordiska länderna. Du ser sidan om Sverige här ovan, och där kan det vara värt att påpeka att siffrorna från Svenskarna och Internet 2015 är något annorlunda. Där talas det t.ex om att 70% av internetanvändare har ett Facebookkonto. We Are Social anger aktiva konton, inte individer.
3. Scott Galloway – Gang of Four: Apple/Amazon/Facebook/Google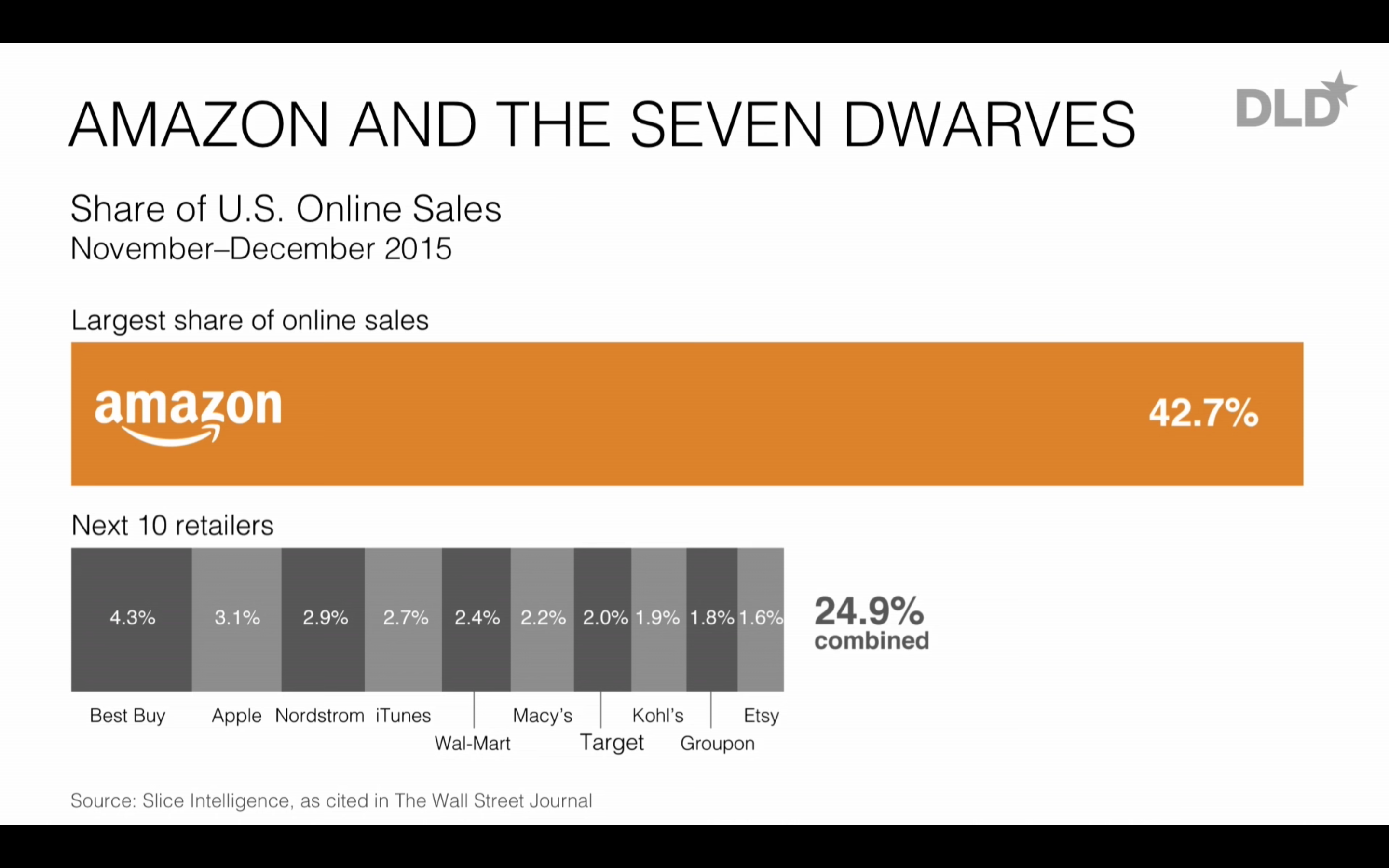 Scott Galloway är alltså "clinical professor of marketing" vid Stern School of Business, New York University. Det här är en presentation han höll på konferensen DLD16 för en dryg vecka sedan. I den går han i turbofart igenom utvecklingen av de fyra jätteföretagen och några till såväl ekonomiskt som produkter, lösningar och tänkbara scenarion. Bilden här ovan visar t.ex Amazons totala dominans av e-handeln i USA.
Han droppar även små pärlor som den här "Advertising is a tax only poor people pay". Det är svårt att fånga upp allt han säger om man bara ser den en gång, men det är väl värt att spendera tid med den.
Det kommer att finnas all anledning att återkomma till de här tre rapporterna och närmare analysera innehållet. Men för nu – låt statistiken skölja över dig.
Har du frågor eller funderingar kring digital utveckling, lämna en kommentar här eller kontakta mig direkt. Och om du är intresserad av att lära dig mer om vad som händer i vår digitala värld så håller jag regelbundet föreläsningar för företag om digital transformation och liknande. Kontakta mig direkt för mer information