Har du börjat se poster på Facebook med en liten blixt uppe i högra hörnet? Det är de omtalade Instant articles som nu börjar synas i ditt flöde.
Vi har hört talas om dem sedan maj, och om du vill läsa mer om vad Instant articles är så skrev jag om dem redan då.
Men trots all inledande uppståndelse och några enstaka exempel från de utvalda samarbetspartnerna NY Times, Buzzfeed, Guardian med flera, blev det sedan rätt tyst om dem. Vi har pratat mer om varför de kommer och vad konkurrenterna gör för att möta dem, än om de egentliga artiklarna.
Nyligen så gick dock Michael Reckhow, som är ansvarig för Instant articles på Facebook, ut och meddelade att nu kommer alla som använder Facebook-appen i en Iphone att börja se "tusentals artiklar". För Instant articles är alltså något som enbart existerar på mobiler och tablets, inte om du använder Facebook på din dator. Och Android-användare får vänta en tid till.
Det du ska hålla utkik efter, som sagt, är alltså en liten blixt i övre högra hörnet: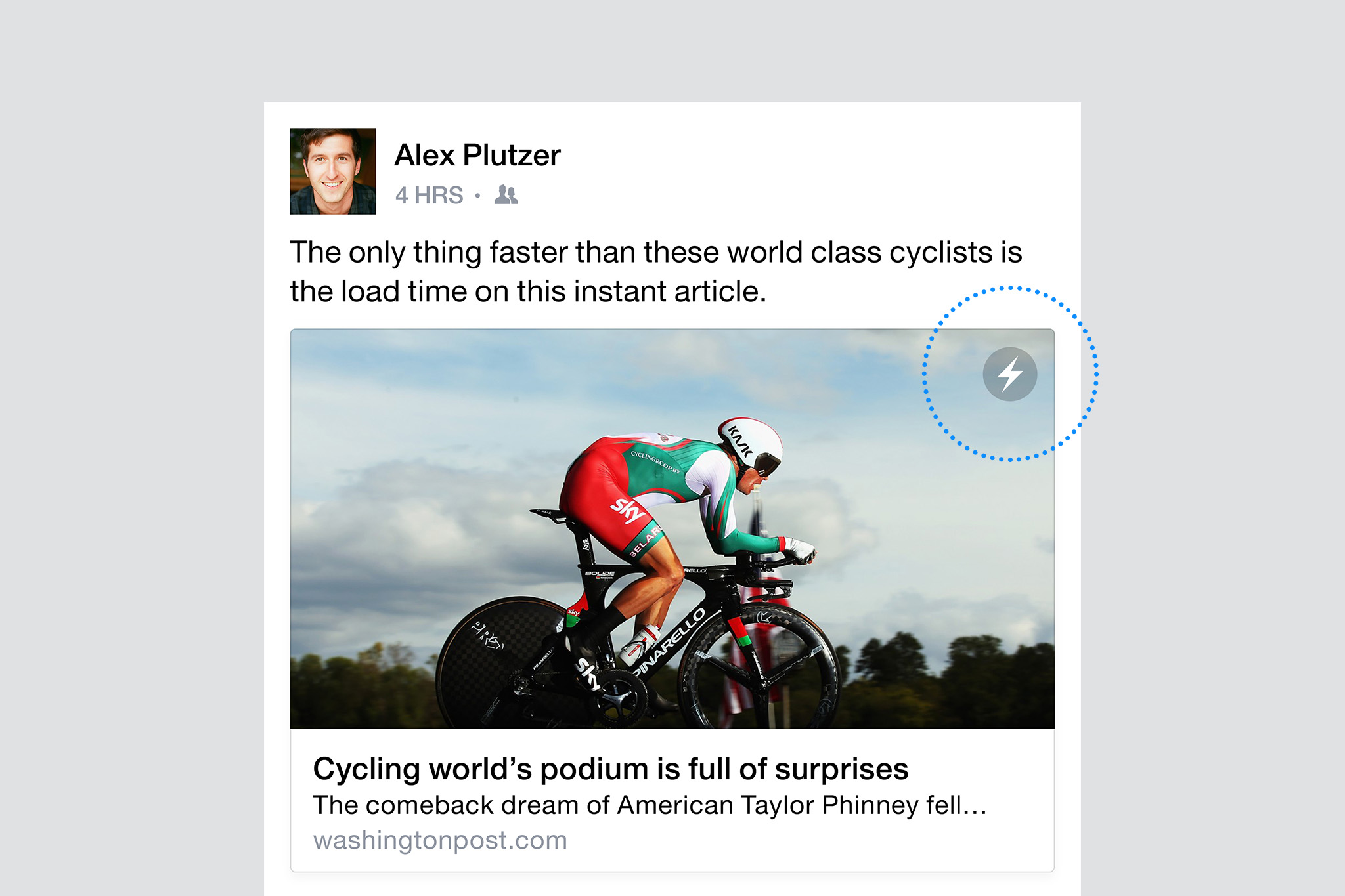 Poängen med de här artiklarna är först och främst att de laddar mycket snabbare än om du klickar på en länk till en nyhetssajt. Hela 10 gånger snabbare enligt Facebook.
Därutöver ska det finnas ett antal andra spännande funktioner, som de olika leverantörerna utvecklar och använder på olika sätt. Fotogallerier, geo-taggade bilder och kartor med mera.
Hur går det för mediehusen?
Den stora frågan som diskuterats sedan maj är dock hur Instant articles kommer att påverka de mediehus som deltar. Tappar de användare nu när man inte längre behöver gå till deras sajter, och kommer de att bli underleverantörer till Facebook som lätt kan bytas ut framöver? Det är först nu när Instant articles kommer på bred front som vi kommer att kunna se resultatet.
Vad vi däremot redan nu vet är att antalet medieföretag som nu deltar i samarbetet med Facebook har ökat till 14, och inom kort ska ytterligare 50 stycken ansluta. Inga svenska eller nordiska ännu, såvitt jag kunnat se.
Fortsättning följer. Och i mellantiden hittar du mer om Instant Articles här:
Facebook bringing Instant articles to Iphone (Social media today)
A rant about how Twitter and Facebook are burying news publishers (TechCrunch)
The Washington Post and Facebook: Smart strategy or deal with the devil? (Fortune)
Om du har frågor eller funderingar kring Instant Articles, Facebook eller sociala medier i allmänhet, lämna en kommentar eller mejla mig. Och om du behöver hjälp med ditt företags närvaro i sociala medier så kan jag bidra med såväl inspiration som strategi och kunskaper. Hör av dig för mer information.