Netflix har gjort några av de bästa exemplen på native advertising. Nu är de tillbaka med ett nytt starkt reportage i samband med att säsong två av Narcos har premiär.
Jag har tidigare skrivit om den högklassiga native advertising som Netflix har gjort för Orange is the new black, House of Cards och Narcos. De är alla tre skolexempel på hur man kan berätta om ett ämne på ett sätt som har samma verkshöjd som ett vanligt reportage, men där ett företag står för investeringen.
När nu säsong två av serien Narcos, som handlar om Pablo Escobar och kokainkartellen i Medelin, Colombia på 1990-talet, har premiär har Netflix tagit hjälp av Wired för att berätta den spännande historien om hur Escobar övervakades och till slut fångades in. The Tech That Took Down A Titan är namnet på reportaget.
Nyhetsbrev
Vill du ha alla poster från staunstrup.se i ett enda nyhetsbrev varje vecka? Fyll i din e-postadress så kommer det raka vägen till inkorgen.
Mix av format
På samma sätt som i de tidigare native-satsningarna blandas olika format i reportaget. Det är text, film och grafik som tillsammans för berättelsen framåt. Och även denna gång har man lagt mycket krut på navigationen och rörelsen mellan de olika delarna. Det kommer bäst till sin rätt på en större skärm, men fungerar alldeles utmärkt på en smartphone.
Till skillnad från de native-reportage som gjorts tidigare har man denna gång tagit med filmklipp från serien Narcos. På det sättet blir kopplingen till avsändaren Netflix tydligare, men jag tycker det funkar.
Kunna målgruppen
Att temat denna gång är teknikfokuserat är naturligt med tanke på den publik Wired har. Inför säsong ett av Narcos var det Wall Street Journal som Netflix vände sig till – och då var ämnet den ekonomiska delen av kokainsmugglingen.
Det är en styrka i det Netflix gör att ge sina samarbetspartners så mycket frihet att utforma berättelsen utifrån både den kompetens som finns internt och vad publiken är intresserad av.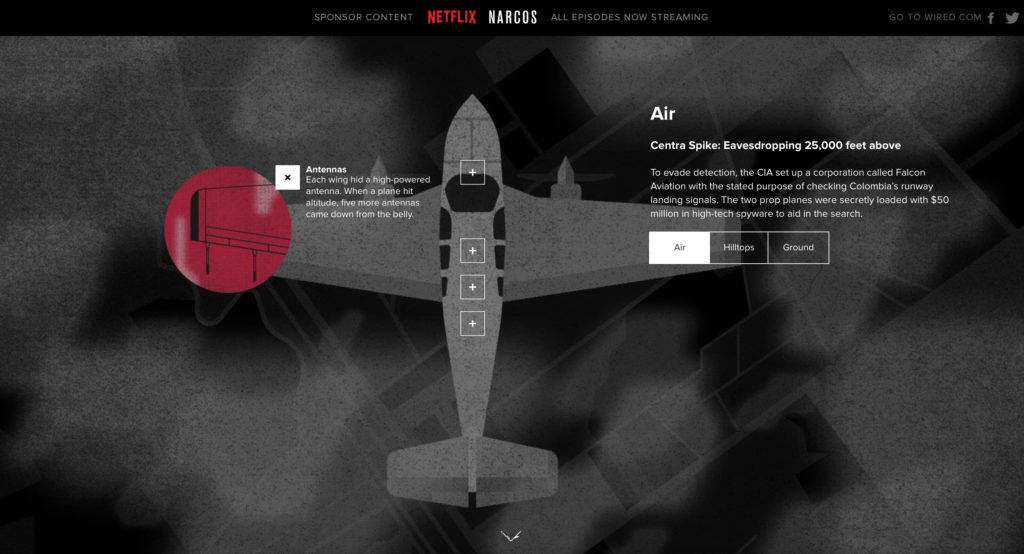 Lärdomar
Även om få har Netflixs budgetar så finns det ändå ett par lärdomar att dra från det arbete de gör med native advertising:
Respektera plattformen – Välj ämnen och vinklar som fungerar för publiken där
Kompromissa inte med bra berättande – Satsa på att hitta en intressant historia och berätta den så bra det går
Kombinera olika format – Du får en större dynamik i berättelsen om text, film och grafik får samspela
Här hittar du fler artiklar om native advertising:
5 råd till företag som vill börja med native advertising
4 bra exempel på svensk native advertising
Tydlig märkning fördel i native advertising
Har du frågor eller funderingar kring native advertising? Lämna en kommentar eller mejla mig direkt.
Vill ditt företag börja använda native advertising eller bli bättre på det? Jag kan hjälpa er med allt från strategi till genomförande. Kontakta mig direkt så berättar jag mer