I en e-bok om 100 framstående kvinnor inom native advertising, som publiceras idag, finns nio svenskor med
Native Advertising Institute publicerar idag en ny e-bok: 100 significant women in Native advertising. Av de 100 är nio stycken från Sverige och jag vill gärna lyfta dem här.
"Bra native advertising skapas av en mängd olika röster. Men det är fortfarande så att kvinnoröster är underrepresenterade i branschen. I samband med Internationella Kvinnodagen 8 mars riktar Native Advertising Institute strålkastarljuset på 100 kvinnor som flyttar hela branschen framåt." säger Stine Holmgaard som är COO och partner på Institutet.
Nyhetsbrev
Vill du ha alla poster från staunstrup.se i ett enda nyhetsbrev varje vecka? Fyll i din e-postadress så kommer det raka vägen till inkorgen.
Här är de nio svenskorna som är med i boken:
– Anna Arvidsson, Head of Bonnier News Brand Studio
– Gabriella Wiiala, Business Director, Spoon
– Josefine Kvarnström, Director, Schibsted Brand Studio
– Jonna Säll, CEO, Nyheter365
– Jonna Ekman, Marketing Director, KIT Story Engine
– Lotta Tjulin Thörnqvist, Head of Creative Sales, Schibsted Brand Studio
– Maria Marteleur, Founder, CEO & Digital Strategist, Storstad Medieproduktion
– Ricki Petrini, Head of Content Marketing, Mediekompaniet
– Sophie Miskiw, Commercial Editor, The Local Europe AB
NAI har även gjort en infograf med alla 100: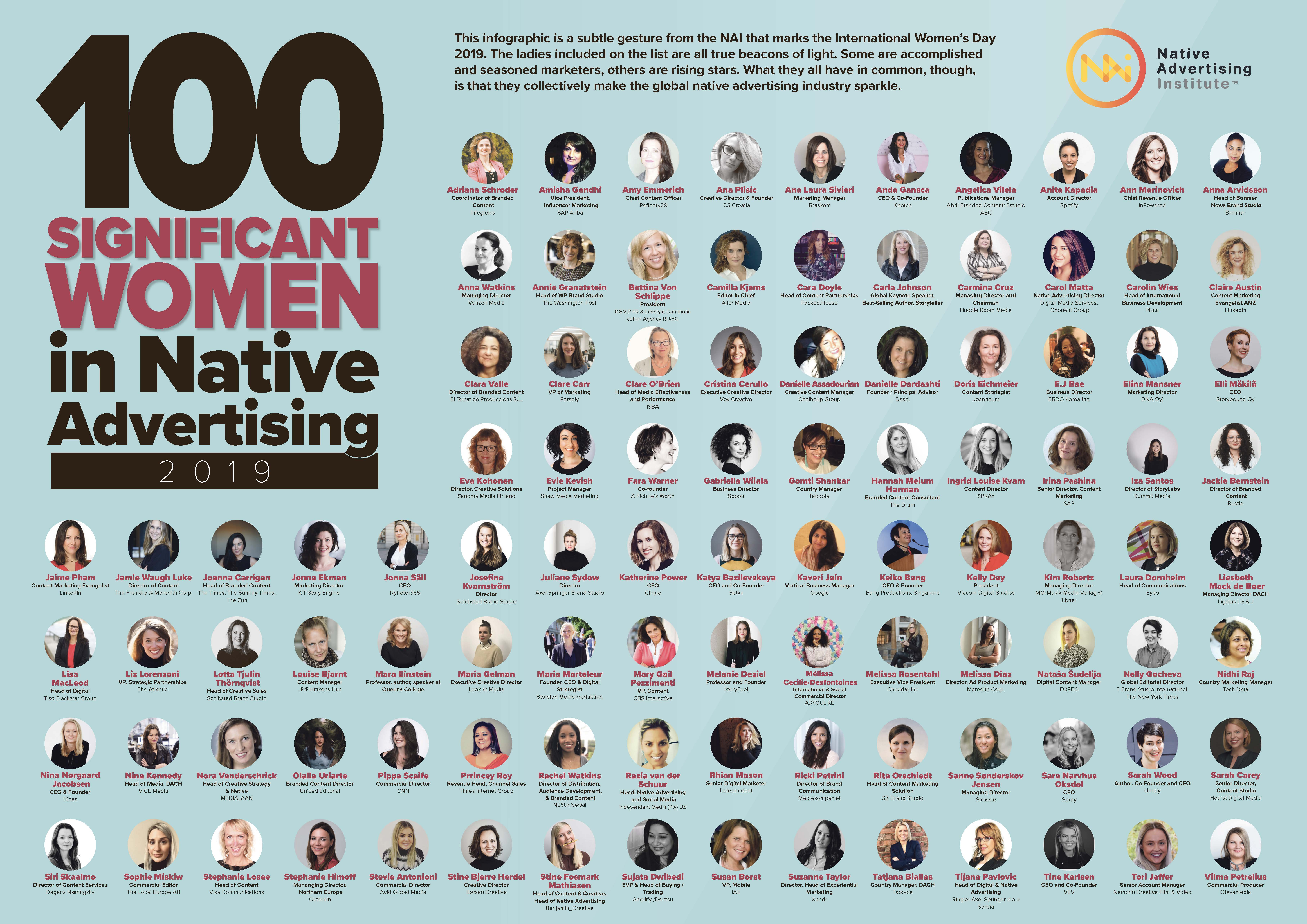 Vill du att ditt företag ska bli bättre på att arbeta med digital marknadsföring, content marketing, account based marketing eller sociala medier? Jag jobbar på Brandmovers, en content marketing-byrå som kan hjälpa er med allt från strategi till genomförande och uppföljning. Kontakta mig så berättar jag mer.