Appen "Too Good To Go" har nyligen lanserats i några europeiska länder. Med den kan användaren enkelt köpa mat från restauranger som annars skulle slängas. En lysande idé som jag hoppas blir framgångsrik.
Idéen bakom appen är alltså att en användare köpa överbliven mat från restauranger, mat som annars ändå inte skulle säljas utan slängas bort. TGTG erbjuder det förpackat för en mycket lägre kostnad – men restaurangen tjänar fortfarande en slant på det istället för att skriva av kostnaden. Så här går det till:
Så här säger en av skaparna av appen, James Crummie:
"Food waste just seems like one of the dumbest problems we have in this world. The restaurant industry is wasting about 600,000 tonnes of food each year, and in the UK alone there are one million people on emergency food parcels from food banks. Why do we have these two massive social issues that are completely connected, yet there is not much going on to address them?"
Man kan även använda appen för att donera mat till t.ex hemlösa. I Storbritannien har användarna genom att skänka ett pund sett till att 1,100 måltider donerats hittills.
Appen skapades i Danmark, och finns för närvarande i "en handfull" europeiska länder, t.ex UK och Norge. Den finns tillgänglig i AppStore för Sverige, men inga svenska restauranger eller andra resultat dyker upp vid en sökning. Så här kan ett resultat se ut för Norge: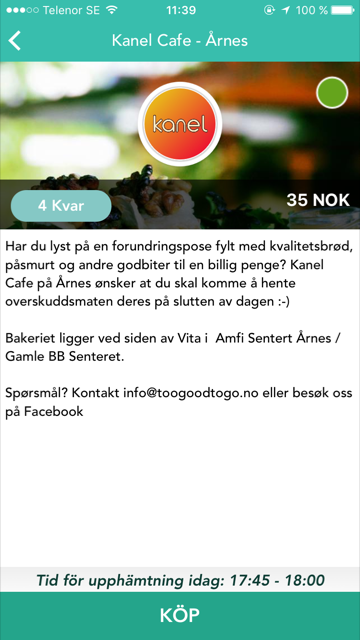 Vad tror du, kommer TGTG att bli en framgång? Skulle du kunna tänka dig att testa den själv?
Jag hittade den här nyheten i The Next Web, läs gärna originalet där 
Har du frågor eller funderingar kring digital utveckling, lämna en kommentar här eller mejla mig.
Vill du att ditt företag ska bli bättre på att arbeta med digital utveckling? Jag kan hjälpa er med allt från strategi till genomförande och uppföljning. Kontakta mig direkt för mer information.