Det talas mycket om native advertising – mest om ifall det är bra eller dåligt. Inte lika mycket om vad som faktiskt menas med begreppet. Här hittar du en beskrivning och några exempel.
"Native advertising" är annonser som ska smälta in i sin omgivning. De ska likna innehållet på t.ex webbplatsen genom att ha samma ton och utformning, och på samma sätt som sajtens eget innehåll förmedla något till besökaren. Men för att skilja det från t.ex redaktionellt innehåll ges det ofta en något annan utformning. Till exempel en inramning och en text som anger att det är köpt eller "sponsrat".
Det finns en lång förhistoria till dagens native advertising, bl.a de reklambilagor som ofta finns med i svenska tidningar. Här hittar du en kort historik över utvecklingen av native från Contently.
Definition
IAB Sverige, en svensk del av en internationell samarbetsorganisation för onlinemarknadsföring, har definierat native advertising så här: "Annonsering som följer samma beteende som resterande innehåll och är utformad så att användaren upplever det som en naturlig del av plattformen. Native advertising är en del av det bredare begreppet content marketing, som avgränsas genom det faktum att native advertising alltid är betalt utrymme.".  Du kan ladda ned IABs riktlinjer och läsa mer om deras syn här.
Annonser i samma stil som redaktionellt innehåll, ofta kallade "sponsrat innehåll" är den vanligaste (eller mest kända) formen av native advertising, men även sponsrat sök, sponsrade listor, föreslaget innehåll av typen "Läs också" samt sponsrade poster i sociala kanaler som Facebook, Twitter och LinkedIn ingår i definitionen.
Native advertising i sin redaktionella form kan ta sig olika uttryck. Så här kan det t.ex se ut när SEB använder det på nyhetsplattformen Omni (notera den gula bakgrunden för de sponsrade posterna):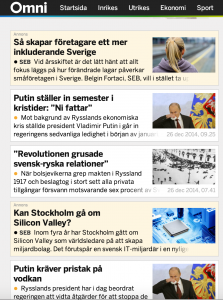 Ett exempel på native advertising som fått stor uppmärksamhet är New York Times av Netflix sponsrade artikel om kvinnor i fängelse, publicerad inför premiären av säsong två av Orange is the new black.
En presentation om native advertising som tar upp flera olika exempel och också visar bredden i begreppet är Hawk Thompsons "Breaking".
Hawk tar bl.a upp sponsrade filmer som t.ex Werner Herzogs "From one second to the next", en film om att inte texta medan man kör bil som finansierades av AT&T:
För att få veta ännu mer om vad native är och hur det används i t.ex sociala medier så kan du ta en titt på den här infografen.
Native advertising är alltså ett brett begrepp, men kärnan i det är att det är köpt innehåll som placeras i ett sammanhang på en medieplattform.
Nu när vi har benat ut begreppet kan vi gå över till att prata om användbarheten för native advertising, och om de problem med formatet som ofta brukar tas upp. Häng med till nästa post där jag ställer frågan Native advertising – bra eller dåligt?
Har du frågor eller funderingar kring native advertising? Lämna en kommentar eller mejla mig.
Vill du att ditt företag ska börja med native advertising, eller bli bättre på det? Jag kan hjälpa er med allt från planering till genomförande och uppföljning. Kontakta mig direkt så berättar jag mer.